Prior to launching the HellerResults Group in 2011, Nelson Heller was President of EdNET at MDR in the US, a D&B company. The EdNET brand covered publication of the EdNET Insight News Alert, a weekly e-mailed industry news service reaching over 31 thousand education industry execs worldwide, the annual EdNET: Educational Networking Conference, and EdNET Insight, a market intelligence and decision support service. Dr. Heller has been quoted in the numerous business publications and has spoken at and keynoted at many domestic and international conferences.
images courtesy of MDR
Nelson Heller started The Heller Reports Business-to-Business news service and EdNET conferences in 1989. In 2002 he sold The Heller Reports to the Quality Education Data (QED) division of Scholastic Inc. and headed that unit at QED. In 2009 QED was acquired by the MDR division of Dun & Bradstreet, where Nelson became the President of EdNET. For more than 40 years, MDR has been the market's first choice for marketing information and services for the K-12, higher education, library, early childhood, and related education markets. Powered by the most complete, current, and accurate education databases available in the industry, MDR provides email contacts and deployment, direct mail lists, sales contact and lead solutions, along with web and social media marketing services.
Awards, Recognition and Education
Dr. Heller is recipient of the "Making It Happen" education industry award and has been inducted into the
Association of Educational Publishers'
(AEP) Educational Publishing
Hall of Fame
. He holds graduate degrees from
MIT
and a PhD from the
University of Pennsylvania
.


Founded by Nelson Heller in 1989, many in the educational resources industry consider the annual EdNET event the must-attend event for education industry stakeholders for:
• Immediate Connections
• Productive Networking
• Answers for Your Business
• Essential Market Insight
• Receptive Contacts Year-Round
EdNET 2010 brought together over 550 executives and industry leaders for three days of networking and building new business relationships. Attendees always have an opportunity to hear directly from educators and engage in dialogue about industry trends and developing products for the rapidly changing "do more with less" education marketplace.
EdNET Networking Reception
Here's what some industry executives have said about the EdNET Conference Watch the video >>>
"EdNET is absolutely fantastic. The networking opportunities are outstanding. I've gotten a lot of business from EdNET and it's just great to be with your colleagues and hear what's going on in the industry."
Robin Warner, Education Specialist, Atwood Advisors
"[EdNET] is the place to be to meet the people that I needed to know in the industry…this is probably the most productive two days I could ever spend during the year to meet all the people I needed to."
Kevin Custer, Founding Principal, ARC Capital Development
"EdNET is always the best place to go for networking...its amazing the number of people that you draw and the interesting and helpful people that you meet."
Bridget Foster, Manager, Global Alliances and Partnerships Polyvision

"We found that [EdNET] is a great place to meet people to make business deals, to network with people- for us to create distribution agreements and to gain market intelligence."
Jim Teicher, Director, CyberSmart Education
"EdNET really allows people from all different business sectors to get together and talk about building business and I think that's very unique in a conference."
Phyllis Hillwig, COO, Words and Numbers

"[EdNET] helps not-for-profits like us who need investors [and] partners and EdNET therefore is absolutely essential to us."
Ruth Blanenbaker, Chief Executive Officer, Center for Interactive Learning and Collaboration (CILC)

"This is the best networking in the entire education industry bar none! The most valuable thing about attending EdNET is the number of people that you find here who are responsible for doing things in the education industry."
John Weiss, President, Weiss Recruiting

"I have come to EdNET for 18 years. It absolutely pays for itself at least three fold because I get new business for the company, I get new people to work for the company and I get new partnerships for distribution in the company It's CEOs, it's presidents it's top level people–the decision makers are here."
Jenny House, President, RedRock Reports
"This is the place you've got to come if you want to meet people in the industry in a context in which they are not selling to other people but really here to network with each other. By my second or third year, I just realized that it felt like home – it was a place that everybody in the industry comes to catch up with each other, relax and get to know each other better, I can't imagine being in the industry and not coming to EdNET. "
Ken Kay, CEO, EdLeader21


Starting in 1989 with The Heller Report on Educational Technology and Telecommunications Markets, and a circulation in the hundreds, The Heller Reports industry news coverage expanded to multiple print newsletters and in 1996, to Desktop EdNET, the first emailed industry publication. Now morphed into the weekly EdNET News Alert reaches over 31 thousand industry executives worldwide every Friday.
[The following is adapted from material produced by the Association of Educational Publishers for Dr. Heller's induction into the Educational Publishing Hall of Fame in 2009]
Nelson Heller began his path to educational publishing in an unusual place. In the 1970's, Nelson earned his PhD applying operations research principles to police emergency services. Later he founded a non-profit think tank to implement these techniques in local and federal government organizations. The group started using the very first personal computers for training, and to help administrators with the strategies and calculations. "That's when I had my 'Eureka!' moment," said Nelson. "I realized that educational technology could revolutionize and enhance learning of any kind." Although Nelson tried unsuccessfully to sell his first idea for computerized training to the American Management Association (AMA), the experience did set the tone of his career--looking for potential in the partnerships between education and technology, and always looking for the next opportunity to advance his business and his mission.
Nelson's proposal did attract the attention of two investors, one who created courses for the AMA and the other, the publisher of ComputerWorld. Together they formed Educational Programming Systems, which created some of the first Apple II software to train adults and launched the Technology Assisted Learning Market Information Service (TALMIS), a market information service to keep companies apprised of the evolving ed tech market. This subsequently led to Nelson's employment at SFN, owner of several educational publishers including Scott Foresman, a subscriber to the service. SFN was looking to increase the company's profile in the fledgling world of educational technology.
"When I started, the bigger educational publishers weren't sure how to deal with ed tech or even if they should care," observed Nelson. "There was a lot of fumbling around, trying to apply conventional business wisdom to the new arenas. Basal textbook publishers had for years been giving away the ancillary materials to win textbook adoptions and didn't know how to make technology more than a "free with order" part of the package.
"[Nelson] was one of the first to focus on the business piece of educational technology," said Anne Wujcik, Education Research Analyst, MDR. "He brought a slightly different perspective to the community and how they could rethink their businesses--even though publishers were saying technology would pass."
Eventually Scott Foresman was sold and Nelson's job evaporated. Looking for another job he hedged by starting his own consulting business. The big educational publishers were struggling under the assumption that only one of the new PC brands "would win" and the others would disappear. He also saw that the supplemental publishers were in a position to be more adventurous because they weren't bound to the free with order situation faced by the textbook firms. His new firm set out to help them all enter the technology market, giving them a perspective they might not be able to see from inside their offices.
"Nelson's big strength always was to investigate deeply so as to be in the position of placing himself slightly away from the action, allowing him to ask the appropriate questions and provide comment that only someone looking-in can do--of course he called it the 'Catbird' position," said Dominic Savage OBE, Director General of the UK-based British Educational Suppliers Association.
When consulting jobs were scarce, rather than wait for inquiries, Nelson started a free newsletter, the Heller Technology Update, to remind the business world that he existed. He approached Eliot Minsker, ceo of Knowledge Industry Publications and publisher of Educational Marketer, for advice. Minsker offered to partner with him on a subscription-based publication and The Heller Report on Educational Technology and Telecommunications Markets was born. Eliot's strategy for a new publication was to hold a related conference to launch it. The first event – called EdNET to highlight both the technology and the networking opportunity - attracted around 90 people and set the stage for success for both the event and the newsletter. Hastily planned, the venue selected didn't have a room big enough for everyone to have lunch together, so it had to make do with attendees separated into two rooms. To cover this handicap, Nelson decided to present it as providing more intimate contexts in which everyone could introduce themselves to each other. Thus EdNET's signature 30-second self-intros were born.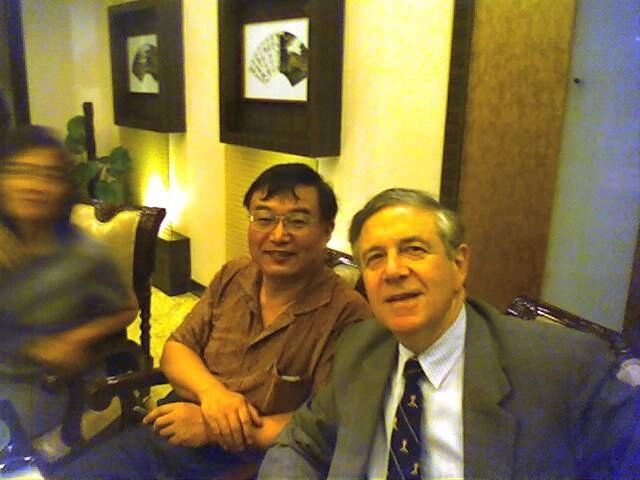 Nelson
meeting publishing execs in China
"Nelson's greatest contribution [to educational publishing] is making connections," commented Megan St. John, Managing Director, InfoCommerce Group. "That's what he does really well. EdNET became the nexus for people to meet. Lots of people have done the tech side, but none do the connections."
The connections have evolved into more than just introductions, though. EdNET brings together all sides of the industry to have a conversation about the future of education and technology in the context of viable business models. In addition to publishers, the conference attracts superintendents, entrepreneurs, marketers, technology developers, telecoms and, more recently, Internet firms and educational gamers. Nelson's goal is for these disparate groups to explore becoming working partners.
"Nelson's legacy is making the connection between technology and publishing. Through writing and his contacts he encouraged thoughtful conversations," remarked Andy Lacy, President, MDR Professional Services. "Now, it's not tech on one side and publishing on the other. Nelson helped them become one subject, working together."
"Of all of his many contributions, the primary one may well be his mentoring and nurturing of the relationships that drive the market and make it such a rewarding community in which to work," Vicki Bigham, President, Bigham Technology Solutions, Inc., further observed. "He is always the one to suggest, 'let's go around the room and introduce ourselves to one another or share a key thought', whether it be a dinner group of eight people or a reception full of strangers, as he did in London at the EdNET Global Forum, a gathering of British and U.S. education executives."
More important, Nelson has the ability to figure out when people need to talk. Soon after 9/11, no one was traveling, and the educational publishing industry, like the nation, was stunned and confused. Nelson knew that what the industry needed was to talk and think through the ramifications, but that a conference was not the solution. Nelson's answer, three weeks later, was the EdNET virtual roundtables, a series of telephone conference calls on hot topics responding to the needs of the community. The first one, "Grappling with Post 9/11 Education Markets," drew 63 companies and set the stage for an ongoing series that years later morphed to webinars.
Finally, Nelson has always taken the long view of technology's interaction with education. Hs industry predictions, whether in The Heller Reports newsletters or at EdNET, are a must-have for the coming year. "Nelson is always on the forefront of seeing how people could use technology and how the market is doing--he accurately predicted the recession and the impact of Web 2.0," said Andy Lacy. "He is open to what he hears and doesn't filter it or discredit what he hears. It's hard not to believe that the work he does won't improve the products and grow the industry."
"Nelson has successfully transcended the eras of educational publishing through the past decades. He has always managed to stay relevant and current regarding educational trends and customer needs, " commented Peter Li, Chairman of the Board, Peter Li Education Group. "Nelson successfully embraced the digital explosion going from a focus on text and textbook needs to the current world of technology...never losing his pulse of what is real and what is needed for good business practices."